Deeper Roots
has developed a comprehensive Bible curriculum for 7th through 12th graders. The studies are listed below with their target grade in parentheses.
Discovering Our Amazing God (7th grade)
Discovering Who I am in Christ (8th grade)
Discovering Christ-like Habits (9th grade)
Discovering Christ-like Character (9th or 10th grade)
Rooted and Grounded (11th or 12th grade)
We received book 3 in the Deeper Roots series,
Discovering Christ-like Habits
, which would work great with 7th-9th graders. (My 5th grade daughter didn't have any problems answering the questions, either.)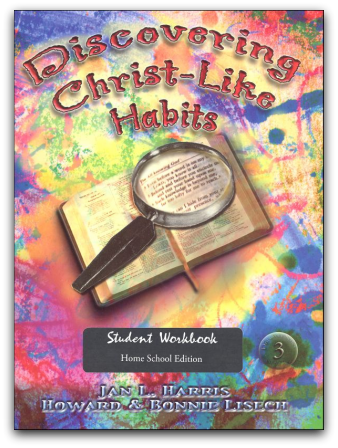 Click on the picture above to purchase the book through Deeper Roots.
Discovering Christ-like Habits may be the third book in a series, but it stands alone, as well. This is a topical study that covers growing faith, our ever present Helper, the secret of the will, the gift of prayer, celebrating God, and feeding on God's Word. The lessons are divided into approximatley 14 "day" segments (ranging from 11-17), so the book could be completed in aorund 12 weeks if 20-30 minutes are devoted to Discovering Christlike Habits each day. We participate in another weekly Bible study, so we've chosen to go through at a much slower pace. This works just as well. We have all year, right?
Each lesson focuses on one habit, such as faith or spending time in God's Word. Topically themed Scripture memory verses are incorporated into each lesson. Each daily segment also includes multiple Bible passages for observation, reflection, and application. I also love that a different unreached people group is described at the beginning of each lesson to help guide prayers that God's Word would go out into all the world and that it would not return void. Important terms are analyzed by comparing Dictionary definitions with biblical context clues. Hymns, DVDs, and other resources are also sometimes utilized to help clarify the topic at hand. And many thought provoking illustrations help make abstract truths more concrete.
My favorite part of this study is that it encourages lots of reflection and application. It's one thing to gain head knowledge about the Bible by filling in the blanks, so to speak. It's another thing entirely to let the truths apprehended actually change you! I really appreciate this about the study. I do think completing this series of Bible studies will lead to deeper roots in the Word- like a tree planted by rivers of water : ).
My least favorite part of the study is the emphasis on drawing and writing. I think the developers of this curriculum are right brained and I had a right-brained daughter who really connected with this study. I, on the other hand, am not interested in trying to draw (I never progressed beyond stick figures) or write about our family touchstone or such things. This is why I call Deeper Roots Bible curriculum comprehensive, though, it really does cover more than just biblical doctrine. You can use the people group sketches to study geography, the drawing assignments to emphasize art (many styles from nature drawings to cartoons are assigned), the journaling assignments to work on writing, etc. And study guides and tests are even included in the curriclum!
I highly recommend
Discovering Christ-like Habits
by Deeper Roots publications. The student book is available for $19.95 and the teacher book for $28.95. Still not sure? Please download this FREE pdf
Discovering Christ-like Habits composite
including the introduction, table of contents and sample lesson.
Disclaimer: I received no compensation for the writing of this review other than a free Discovering Christ-like Habits student workbook and teacher's guide. All opinions expressed are my own.