Prince (5) and I have LOVED
Five in a Row
(volumes I and II) by Jane Claire Lambert, and I had actually been considering whether I should buy
Before Five in a Row
for Queen, who will be 3 next month, this year or wait until next year. When the opportunity arose for me to review
Before Five in a Row
, I jumped at the chance, and I'm so glad I did. If you love
FIAR
, you're sure to love
Before FIAR
!
The idea behind
Five in a Row
is to help your children glean something new each time you read a certain story to them.
Five in a Row
includes a multitude of lessons covering the subjects of Social Studies, Language Arts, Art, Math, and Science for each of 20 carefullly selected children's books. I love that I can pick and choose which lesson or lessons I want to cover on each of the 5 days in a row that we read the book. I will tell you that my 5 year old son can easily locate Sri Lanka on a world map thanks to
FIAR
. (My 5 yr old son was recently encouraging his 8 yr old sister to try to find Sri Lanka and he told her it's just below India. She said, "Where's India?" I'm really wishing I had done
FIAR
with her.)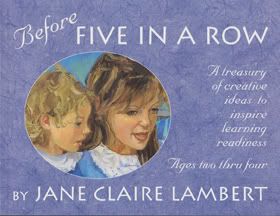 Before FIAR
shares the same philosphy as
FIAR
, but is geared for children ages 2-4, who may not be quite ready for the lessons presented in
FIAR
.
Before FIAR
will be a fun way to get your preschooler ready to start school, whether you decide to homeschool them or send them to Kindergarten.
Before FIAR
is organized in two parts. The first part of the book is composed of lesson plans for 24 children's classics such as Goodnight Moon and Blueberries for Sal. (Click
here for a complete list of BFIAR titles
.) The lessons cover a variety of subjects important for pre-schoolers such as colors, patterns, rhyming, memory, sequencing, and problem solving to name a few. Some of the big kid subjects like Math, Science, and Language Arts are represented, too. Bible lessons including Scripture verses are included for each book, as well.
The second part of
BFIAR
is a rich parent's resource of creative ideas for learning readiness. This section of the book is full of games and activities you can do with your child to help get them ready for reading and also help with their gross and fine motor development. Activities for bath and kitchen time, an introduction to the arts, and more are included in this learning readiness treasury.
One of our goals as parents is to give our children the gift of a love of reading. My husband and I love books and we want our kids to love books, too.
Before Five in a Row
is a great way to nurture a love of reading in your preschooler.
My little preschooler with some of her BFIAR books.
Ha, ha, ha. Those monkeys are so funny!
You can purchase
Before Five in a Row through FIAR's partner Rainbow Resources for $35
(just the lesson plans) and
the literature pack for $97.50
which inlcudes the 19 books currently in print ($149.95 would be retail for buying all the books separately). I bought the literature packs for both volumes I and II of
FIAR
and highly suggest going this route. I was able to round up 7 or so of the titles for
BFIAR
(mostly from our shelves), but was disappointed that our local bookstores didn't have more than 3 of the 24 books!
We have loved
FIAR
so much! I love the accountability to keep reading the same book until we've really soaked in it. I love
FIAR
's Christian worldview and how they encourage biblical character development. And I love that my kids are enjoying learning from living books, not from dry, boring textbooks. I highly recommend
Before Five in a Row
for guided reading with your preschooler. And I hope I get the chance to review
Beyond Five in a Row
soon : ).

Please check out the
other TOS reviews of Before Five in a Row
.
Disclaimer: I received no compensation for the writing of this review other than a free copy of
Before Five in a Row
. All opinions expressed in this post are my own.