I love Latin and even competed on my Junior High School's Latin team, so when I started homeschooling my kids a few years ago I bought a Latin curriculum for us to work through together. My kids were young at the time, 8 and 6, I think, and they did NOT have the Latin bug. It was drudgery. More importantly, my husband was not sold on the value of learning Latin and said he would rather us learn Greek if we were going to learn an ancient language. So lacking my husband's support and without my children's enthusiasm, we gave up Latin in favor of studying Greek.
Fast forward four years and I had the opportunity to review
Visual Latin
by
The Compass Classroom
. I actually had to go to a lunch meeting the first day the kids watched their Visual Latin, so my husband was home and watched with them. As I was leaving my husband asked me why I was having the kids watch a Latin DVD and I assured him it was just for a review.
Guess what? When I got back my husband told me the guy on the DVD sold him on studying Latin! I couldn't believe my ears!! I had made the vocabulary, grammar, foreign language, and logic arguments in favor of studying Latin four years before, but evidently Dwane Thomas is more persuasive than I am!
The kids loved the DVD and easily completed their worksheets, which are included in pdf format on the DVD. But mainly my husband carried on about what an engaging teacher Dwane is. My husband is a pastor so he's very aware of how well speakers command the attention of their audience, and he was very impressed with Dwane. Well, he was raised by a pack of wild Latin teachers somewhere near the Rubicon. It's going to be tough to beat that! Even my 8 yr old daughter, whose strong suit is not listening, was able to pay attention throughout the short lessons.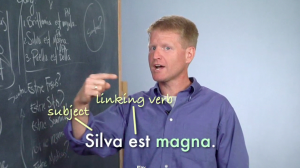 Meet your instructor, Dwane Thomas. Dwane is very expressive and my kids even enjoyed watching him in slow motion.
Each lesson is divided into three parts: Grammar , sentences, and reading. The entire lesson can be viewed in approximately 20 minutes. The worksheets and transcript can be completed in another 15 minutes or so. Imagine your children learning Latin in only 35-40 minutes a day and the best part- you have an excellent teacher with a great sense of humor commanding the attention of your students while you're either just along for the ride or even doing something else, like eating lunch.
So because we all loved Visual Latin so much, we now face a dilemma. Latin or Greek or both? I sure wish The Compass Classroom would come out with a Visual Greek. Hint, hint.
You can
purchase Visual Latin I
(Lessons 1-30 on three discs) for $80 currently (normally $90) from
The Compass Store
. Latin II (Lessons 31-40 on one disc) is available for $30.00. And if you're still not sure whether Visual Latin is for you, you can
download four introductory lessons and two regular lessons for FREE here
.

And don't forget to check out the
other TOS Visual Latin reviews
!
Disclaimer: I received a free copy of Visual Latin Lessons 1-10 in order to write this review in which I express my personal opinions.