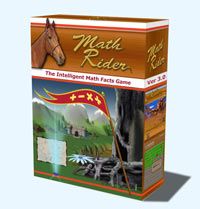 Are you looking for a
fun and intelligent math facts game
? Math Rider helps your elementary school children learn their math facts while playing an adventure style game. Noble quests which exemplify positive family values such as caring and honesty, help your kids learn their math facts while having fun. The game's artificial intelligence rehearses the math facts your child needs most at a rate custom tailored for each player. This leads to mastery of addition, subtraction, multiplication, and division facts (0-12) in record time.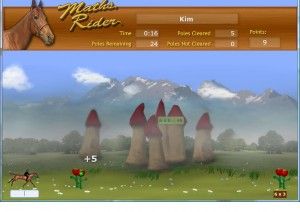 Here's a screenshot from a Math Rider quest.
You can
purchase Math Rider
on sale for $37 (normally $47) only until February 15, 2012. It's an instant download and please be sure to check system requirements. I tried to download this to my PC about 20 times and had problems with Adobe Air which is required for Math Rider to run. I kept getting an error message about a problem with installing Adobe Air on my computer that told me to contact the administrator. I'm not terribly computer savvy, but this is the first time I've encountered this problem. I would make sure you can get Adobe Air successfully installed on your system before purchasing Math Rider. I was really disappointed that I couldn't get this game to work on our computer.
Disclaimer: I received a link to download Math Rider in exchange for an honest review, but unfortunately I was never able to get it installed on my PC. I got my information about Math Rider from their website and a webinar they conducted for reviewers.